In a world of Google reviews, Facebook pages, websites, YouTube channels, and online services, your church's front door is no longer just your physical, church building door. Your church's online presence is your new front door. People can "church shop" from home. They can explore your services and get to know your theology without ever coming to your building. In fact, guests can "visit" your church — online or in-person — without ever identifying themselves. So, how do you design an assimilation system that connects with first-time guests and naturally assimilates them into the life of your church?
Consider your assimilation strategy as a set of buckets. Each bucket holds people from all walks of life and all different spiritual backgrounds. Each bucket is a temporary holding ground. Your church's goal is to collect as many people into each bucket as possible and move them onto the next bucket. Each step they take will be the result of God working in them in conjunction with an intentional assimilation system at your church. The buckets are Explorers >> Identified Visitors >> Repeat Guests >> Regular, Growing Attenders.

The first task your church has is getting guests to visit. Then, once you get them to visit, how can you get them to stay, get involved, and belong? The answer is personal connection.
Personal connection is the linchpin of the assimilation process. If you can show these visitors, guests, church-shoppers, seekers, and other community members that you truly care about them as individuals, they will readily assimilate into the life of your church, moving from casual guests to committed members. 
Let's explore each assimilation bucket and how your church can build personal connections throughout each step of the assimilation process.
Bucket One: Explorers
The first bucket of your church's assimilation system is for Explorers. Church explorers can come from a variety of spiritual states and situations. They may be spiritually lost, seekers, on vacation, new movers, or just people God is calling to a new church. Because the people who are checking out your church for the first time come from a variety of circumstances, what Explorers are looking for varies widely. But, all Explorers' experience of your church generally starts in the same place: online. 
Passive Explorers are people who see something online about your church that they did not seek out. This can include a friend posting about your church on social media, a local organization linking to your church for a joint event, or even your church's Google ads or Facebook Ads. 
Here's a secret: In the world of marketing, typically at any given time, 30% of the market is looking for a specific product or service. About 70% of the market is not actively looking; perhaps they do not even know they need it. And, at any given time 1% of the market has already just bought your product or service. 
If we take these numbers and apply them to church, that means that, at any given time, about 70% of the community around you are not actively looking for a church. These are your Passive Explorers. But — here's the thing – if you can get yourself in front of those 70% now, then when the time comes for them to need church, or realize they want to know about God, or decide they could use some prayer, they are going to come to your church first. This is a long-term strategy, but it has powerful implications when it comes to attracting guests into your church. 
Active Explorers are people who search for churches online and come across your information. These are the 30% of the community, at any given time, that is looking for a new church. They may find you on Google, which means you will want to claim, update, and respond to people through your Google My Business listing. They may see your church in their Google search and click through to your website, your church's Facebook page, your church's Instagram page, or your church's YouTube channel. All of these online gateways are like doors into your church building. They are the Active Explorer's first encounter with your church, so you want to make sure your communications (that is, your social media posts and stories, your website, and all of your other online content) are welcoming, clear, easy to navigate, and reflective of the love of Jesus. 
In the Explorer bucket, people rarely identify themselves. They are silent observers of your church. They may use the information they find online to plan their first visit to your church, or they may choose, instead, to attend your online service. Your goal, from there, is to invite them to identify themselves.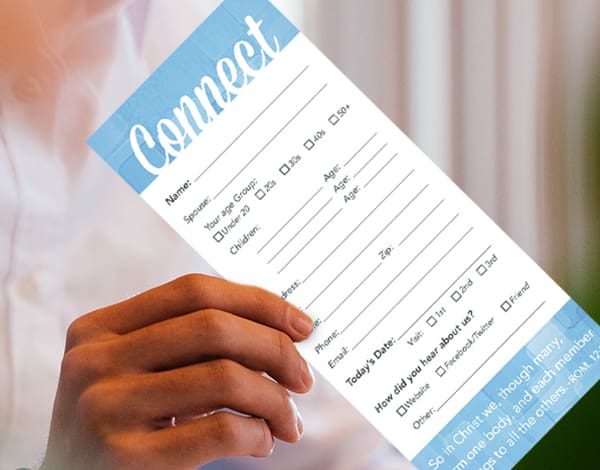 During your announcement time, encourage them to fill out a "Connect Card", where they will give their information. For the in-person experience, they can fill out a paper Connect Card found in their bulletin. Instead of instructing them to drop their Connect Card in the offering, encourage them to hold onto it and bring it to your Information Center or VIP Booth after the service, where they can get a free gift and some information about your church. Make sure to announce this during the announcement time, so they will hold onto their Connect Card until after the service. And, make sure to have banners, flags, a tablecloth, and other signage to make sure first-time guests don't miss your newcomers booth.
For the online experience, they can fill out a digital Connect Card, which your team can use to follow up with them later. 
The key to moving people from the Explorers bucket into the Identified Visitors bucket is collecting their information and having a strategy for follow-up later.  
Bucket Two: Identified Visitors
The second bucket is for people who have given your church their personal information and are open to you following up with them. This bucket is full of people who, regardless of their spiritual or demographic state, are looking for personal connection. 
Your goal with Identified Visitors is to create connection points between them and your staff, volunteers, and regular attenders. Every connection card, whether digital or on paper, should be followed up with a welcome email, text, and/or phone call. If possible, make these a personal email, a personal text, or a personal phone call. In addition, if your team has the capacity, send them a thank you note in the mail, thanking them for visiting. 
These personal emails, texts, or phone calls do not necessarily have to come from the pastor. You can put together a team of volunteers who are willing to follow up with guests. They can call and say, "Thank you so much for visiting ____ Church! I wanted to call and introduce myself and invite you to ________ upcoming event or group." 
Each identified visitor is different, and some will volunteer more information than others. So, encourage your team to ask questions like, "How did you hear about us?" or "Are you new to the area?" or "Do you work in the area?" to get to know the individuals. Then, connect these visitors with whatever ministries, pastors, groups, or upcoming events are most relevant for them. 
If your church uses Facebook Ads or Google Ads, you may receive personal information from people before they ever attend your church, in this case, they jump straight to the Identified Visitors bucket, and your approach should be the same: personal invitation to a service, event, group, or lunch with a pastor.
The key to moving people from Identified Visitors to the third bucket – the Repeat Guests Bucket – is giving them an opportunity to return and make a personal connection.
Bucket Three: Repeat Guests
When people come to your church, identify themselves, and come again, they are beginning to belong at your church. Here are a few ways to facilitate connections with these guests and your staff, volunteers, and regular attenders: 
    Host a monthly "Are You New? Class" after service. Provide free lunch, have pastors and staff get up in front and introduce themselves and talk about their ministries, and encourage your leaders to sit at separate tables to meet as many people as possible. 
    Onboard them into a small group. Three different ways to help people make a small group connection are: 1) Have a small group leader who you think would be a really good fit for them give them a call to invite them to their group. 2) Host a GroupLink event, where people can meet leaders and choose groups that night. 3) Host a class where a portion of the time is spent in small group discussion around tables. Let people form groups throughout the class, then continue groups after. One great example of this is Rooted, a discipleship curriculum and group creator developed by Mariners Church in Irvine, California. 
    Invite them to volunteer in a ministry. As they continue coming to your church, invite Repeat Guests to get involved by serving in a ministry.
The more people Repeat Guests can get to know others and see them regularly, the more they are going to feel a sense of belonging in your church. Getting connected to others also draws them to Christ.
Ephesians 3:17b-18 says, "And I pray that you, being rooted and established in love, may have power, together with all the Lord's holy people, to grasp how wide and long and high and deep is the love of Christ." 
Together is where people grow in their ability to grasp the unfathomable love of Jesus Christ. And, as they grow to know Jesus' love, they may realize they do not yet have a relationship with Him. This is an amazing opportunity! At this point, whoever has a relationship with them and feels comfortable sharing the Good News should have that conversation and invite them to believe in Jesus. 
The key to transitioning people from Repeat Guests to Regular Attenders is less about how many times they come to a weekend service and more about how well they get to know people in your church. That means, you will need all of the people of your church to be on board with introducing themselves to newcomers and inviting them to take their next steps in your church. 
Dr. Hal Seed of Pastor Mentor recommends making your regular attenders and members a central connecting with guests at your church. He uses the acronym "LINE-UP": 
" At New Song, I ask our Core to "LINE-UP" every weekend.
      L = Look for someone you don't know.

      I = Introduce yourself.

      N = Never sit alone.

      E = Engage in conversation after the service.

      U = Use the RU New Café (our monthly lunch for newcomers).

      P = Practice the 3/10 Rule (talk to three people you don't know during the first 10 minutes after the service)."
Together, your entire church gets to participate in this step of the assimilation process, as they build personal connections with repeat guests. 
Bucket Four: Regular, Growing Attenders
The fourth bucket of people in your church's assimilation system are those who are regular attenders either in-person or online. These people are committed, connected, and serving. They are the heart of your congregation, and they are a huge blessing. But, just because they are settled doesn't mean you want them to get complacent. They are already assimilated into your church, yes, but providing opportunities for them to grow is both our role as ministers and a powerful way to keep them endlessly fruitful and fulfilled in the ministries of your church.
A good assimilation system will keep people progressing in connectedness to your church and growing in their pursuit of Christlikeness. Essentially, every person in your church is somewhere along a spectrum of belonging in your congregation, and how you make people stick around is by creating consistent touchpoints and events where people can form relationships with other people in your church.
 A Quick Recap:
In summary, how to have an effective assimilation system in your church:
    Make sure your church's online listings, social media, and website are current and attractive, so Explorers can find you online. 

    Encourage in-person and online first-time guests to fill out Connect Cards, so you can get their information and follow up with them. 

    Offer free gifts to all first-time guests who bring their Connect Card to your Information Center.

    Follow up with each visitor weekly by sending a welcome email, text, and/or personal phone call.

    Invite them to a special event such as an "Are You New? Class", a small group, or a volunteer opportunity.

    Repeatedly invest in relationships with them as they become regular attenders.
From before people even enter your in-person or online experience, they are already impacted by your church's assimilation system. By mentally grouping people into these four assimilation buckets (Explorers, Identified Visitors, Repeat Guests, Regular, Growing Attenders), it is easy to identify their next step in belonging at your church. But, it doesn't have to be complicated. Transforming church visitors into long-term members is about one personal connection at a time, as you facilitate relationships of people-to-your-church, with people-to-people, and people-to-Jesus… for His glory and your church's growth.