September is here and Back to Church Sunday is just a couple weeks away. No matter how you plan to host your visitors, in person or online, you should be prepared to help them feel welcome visiting your church or online page. Here are 7 ways to ensure your church guests feel welcome and safe…

1. Offer both online and in-person services.

In order to reach as many people as possible in your community, you will want to have both in-person and online services options. Many people who have been missing in-person connection will be ready to return, while others may not be comfortable, or may be at risk, and still need the security of an online experience.Make sure your services are available to as many people in as many ways as you can.
Not happy with your online streaming service? A great resource for streaming church online is freeonlinechurch.com.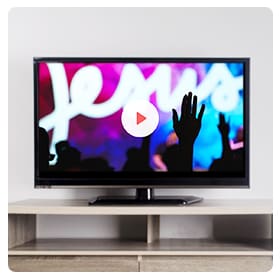 2. Keep your church website updated with information.

Your website is oftentimes the first thing people see when deciding to go to your church, so make a good impression. Make your website clean and easy to navigate. In addition to a clean layout, it is important to make sure that all the information on your website is up to date and addresses today's concerns. Here is a quick checklist of all the information that should be on your website and up to date.

COVID statement – Clearly state on your homepage your policy on masks and physical distancing and what steps are you taking to clean and protect visitors.
Info about your Back to Church Sunday celebration and how people can join in
Your physical meeting address
Meeting times – online and in person
Access to previous sermons
Links to online service
3. Signage! Signage! Signage!

One of the best ways to promote your Back to Church event and fall outreach is signage! Outdoor signage is a great way for people to hear about your church without even stepping foot in your building. With so many designs, your church can order a banner and then reuse the stand for each season. Outdoor banners are a very cost-effective way to make people feel welcome and included, while also making the outside of your church look great.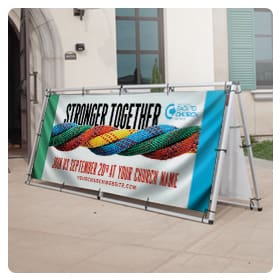 Indoor banners are also a great investment for your church. These banners can not only be used to welcome people and promote your Back to Church Sunday event, but also to share social distancing guidelines and reminders to ensure that people feel safe.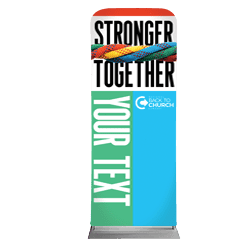 4. Be Extra Friendly & Welcoming

It's a no brainer that a welcome team is an excellent way to make people feel welcome. You're greeting team is key to making a great first impression both in person and online.

For in-person services, a greeting team that waves, holds handheld signs, assists visitors with face masks, finding classrooms and sitting in the proper areas is very valuable. They can break the ice for new people and be a welcome sight to those who have been away and want a friendly face.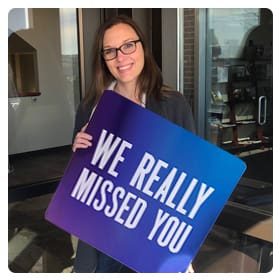 Having a welcome team outside your church as people arrive is great for in-person services, but have you thought about having a welcome team for your online services? Welcoming people to your online service is just as important as welcoming them to an in-person service. Your welcome team for your online service can set the tone for your service by greeting everyone, explaining the online features, fielding questions, helping with any technical difficulties that may arise, and offering additional information about other online events and groups.

There is one more way that you can make visitors feel more at home at your church or on your website – use plain everyday language. If you think carefully, many of the terms and words that we use in church will seem strange and like "insider" information to someone who is new. Avoid "Churchy" terms or explain them if you must use them so that those unfamiliar with church culture will not feel left out. .

5. Keep Your Church Clean and Safe.

These days, no one wants to take a big chance with their health. So it's important that yoru church not only takes extra steps to disinfect and clean but also to share the steps you are taking.

The new Purerox disinfecting system is EPA approved to kill COVID on surfaces in 60 seconds! So you can easily clean classrooms, your worship center and hard surfaces between every service. And the amazing thing is that it's 100% safe and non-toxic so you don't have to wipe things down, you just let it dry! Check out the details here.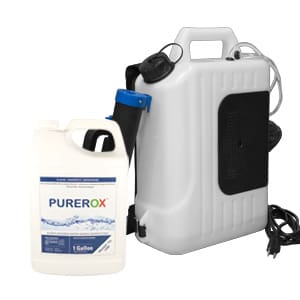 Once your facility is clean, you also want to make sure that your guests are being safe so be sure to offer masks for those who forget their own and the provide sanitizer stations people can use entering and exiting. Check out all the safety products available here.
6. Connect!

Everyone wants to be able to connect with others and now more than ever with social distancing and isolation, people long for connection. During your Back to Church celebration, you will be able to connect with many people who are visitors, and a simple conversation can mean so much and make a lasting impression. With visitors or regulars it is important to be intentional in seeking connection.

For online services connecting can be as easy as having a time at the end for people to ask questions and engage in conversation.
7. Follow up!

Following up is often overlooked, but when a church follows up it makes people feel noticed and a part of a community. Following up and reaching out looks different for each church, but can be as simple as sending out a text or an email thanking people for coming or watching and letting them know that you are available if they need anything.

Some easy ways to follow up could be:
Send a personalized follow up text to each family.
Send an email.
Give them a phone call.
Send a little gift to let people know you appreciate them.
We understand that this fall is a challenging time in your church, but the mission still remains to share the gospel with the unreached in an environment that is welcoming and safe. We understand that each church is different and there are different guidelines in different areas of the country, but we hope that these tips will help you have a successful Back to Church and fall season.